AKB48 memamerkan cover CD album ke-6
GwiGwi.com – AKB48 akhirnya  menunjukkan cover Album ke-6 yang berjudul "ここがロドスだ、ここで跳べ!" (Koko ga Rhodes da, koko de tobe!). Rencana album  ini akan dirilis 21 Januari 2015. Album ini akan terdapat 2 CD, Disc 1 memiliki 13 lagu yaitu Ai no Sonzai (愛の存在), Heart Eleki (ハート・エレキ), Suzukake Nanchara (鈴懸なんちゃら), Mae Shika Mukanee (前しか向かねえ), Labrador Retriever, Kokoro no Placard (心のプラカード) dan Reborn, kemudian Disc 2 memiliki 24 lagu termauk 20 lagu baru. Tipe A limited version terdapat tambahan DVD. Tracklist akan diumumkan selanjutnya. Berikut cover Album ke-6 AKB48.
Type A (Limited edition)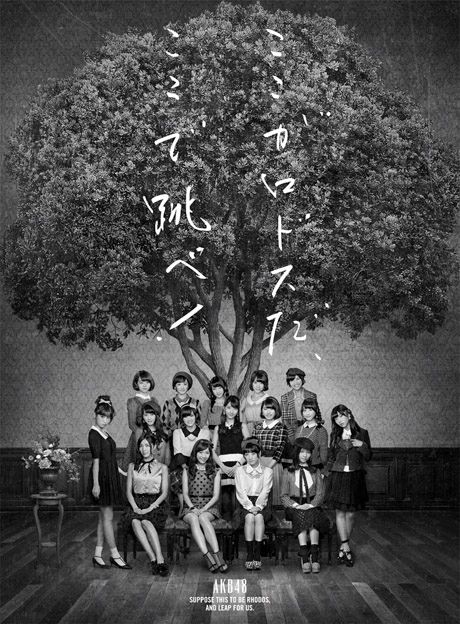 Format: 2CD+DVD
Harga: 3,500 yen (tax excluded)
DVD: Juujun na Slave (従順なSlave) MV, Hajimete no Drive (初めてのドライブ) MV, Loneliness Club MV, 47 no Suteki na Machi e (47の素敵な街へ) MV dan Reborn MV
Features: Kojima Haruna (小嶋陽菜), Miyawaki Sakura (宮脇咲良), Yamamoto Sayaka (山本彩) and Watanabe Mayu (渡辺麻友) new solo song
Type A (Regular edition)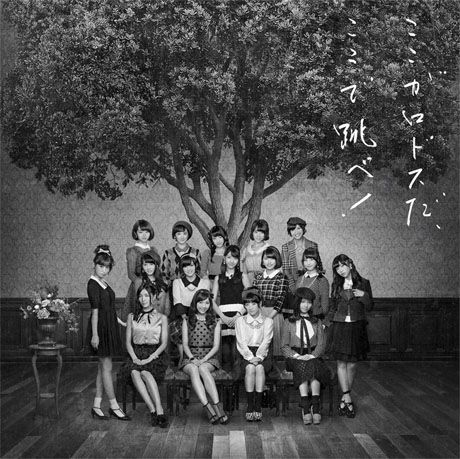 Format: 2CD
Harga: 2,800 yen (tax excluded)
Features: Kashiwagi Yuki (柏木由紀), Sashihara Rino (指原莉乃), Takahashi Minami (高橋みなみ) and Matsui Jurina (松井珠理奈) new solo song
Type B
Format: 2CD
Harga: 2,800 yen (tax excluded)
Theater Edition

Format: 1CD
Harga: 2,200 yen (tax excluded)
=LOVE Umumkan Single ke-10 Saat Konser Ulang Tahun Ke-4
GwiGwi.com – Grup idola pengisi suara Jepang =LOVE telah mengumumkan single ke-10 mereka selama konser ulang tahun mereka "=LOVE 4th ANNIVERSARY PREMIUM CONCERT". Single ini akan dirilis pada 15 Desember 2021.
🌸お知らせ🌸

=LOVE 10thシングルの発売日が12/15(水)に決定いたしました‼️

▼詳細はこちらhttps://t.co/n8GCMD1NHl#イコラブ pic.twitter.com/StaK0GHbiL

— =LOVE_official (@Equal_LOVE_12) September 20, 2021
22/7 mengumumkan Photobook pertama
GwiGwi.com – Grup idola 2D / 3D Jepang 22/7 (Nanabun no Nijuuni) telah mengumumkan photobook pertama mereka. Buku ini telah diproduksi dengan tema "Wisata Musim Panas".
Buku ini akan dirilis dalam versi Regular dan beberapa versi Limited. Versi terbatas termasuk kode unduhan untuk video bonus. Photobook setebal 128 halaman itu akan dirilis pada 23 Desember 2021.
【最新情報②】
2021年12月23日(木)に、結成5周年を迎え、22/7として初めての写真集発売が決定しました👏📕✨
特典盛りだくさんです (*^_^*)💓💓

そして、発売を記念してイベントの開催も決定🥳🎉🎶

詳細はこちら💁‍♀️https://t.co/nLdlcBave0

皆さん、お楽しみに😙❣️

#ナナニジ pic.twitter.com/euSjG7Z2AA

— 22/7(ナナブンノニジュウニ) (@227_staff) September 20, 2021
22/7 Membuka Audisi Anggota Baru